Trusted Window And Door Installation
Save on Roofing supplies expert door and window installation in Edmonton! Our team works with you to build custom, beautiful and high-quality doors and windows that fit your home perfectly.
Since your home is as unique as you are, our team begins by discussing your project's specifics and what options are the best for your home.
Our highly-trained door and window installers make the best recommendation for both your budget and the style of your home.
For the best Edmonton window installation, you can count on Save on Roofing.
Contact us today for your free estimate!
Window Installation Edmonton
Our expert window installers help you determine what option is the best for your home, depending on whether it has vinyl, clad vinyl or clad wood. Most of our manufacturers offer custom sizes and thickness for frame and glass sizes.
Multiple factors go into selecting the right style of window for your home; it is best to choose similar visual consistency styles since mix and matching styles can appear messy. Your house's style should also be taken into consideration when selecting the best option to compliment your home and increase curb appeal.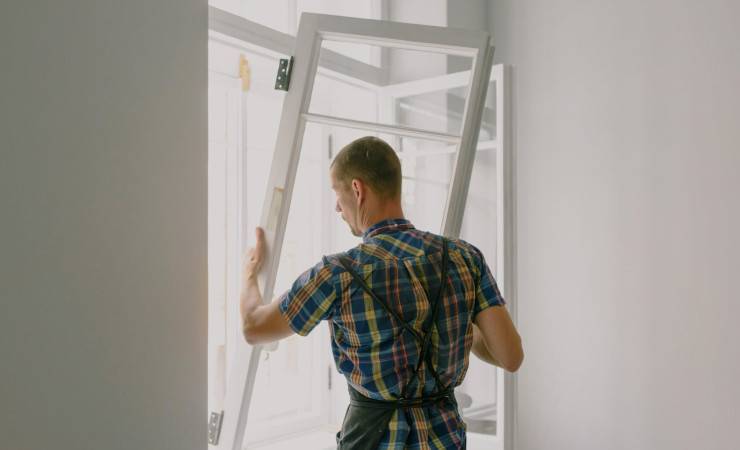 What Are The Different Styles Of Windows?
Single-Hung
A single-hung window has only one operational sash, which is the frame that holds the glass.
While the other sash is fixed in place, single-hung windows are a great and cost-effective option.
Double-Hung
Double-Hung windows are similar to single-hung except both the top and bottom sash can open and close. They are much easier to clean since the tracks are vertical, and both sashes are functional. Double-hung windows are a reasonably priced option.
Sliding
The sashes in a slider window slide back and forth instead of up and down. They are horizontal and best described as a double-hung window placed on its side. Sliding windows are both easy to open and require low maintenance.
Casement
This is a classic style of window that first appeared during the 18th century. The glass is attached to the frame by hinges located on the side. Casement windows open with an elegant swooping motion are easy to clean and add a touch of sophistication to any home.
Awning
Awning Windows are attached to the frame by hinges at the top and open outward. These windows allow for maximum privacy since they can be placed higher on walls than other windows. They are popular in both bathrooms and kitchens and can also be combined with larger stationary windows for better airflow.
Fixed Windows
Fixed windows do not open and close. They serve the sole purpose of letting in light and adding a view. Fixed windows are easy to clean, and really brighten up your home.
Picture
A picture window is similar to a fixed window, except it usually has a smaller frame. It is large and non-operational, great for admiring the view, cost-effective, and easy to clean.
We have various glass options to best suit your needs, including clear, obscure, and solarban. Our expert window installers will work with you to figure out what works best for your home during the consultation.
We have a selection of colour options, including basic whites and wood grain finish, along with other popular colours like blacks, reds, and greens.
Door Installation Edmonton
Save on Roofing offers the best door installation in Edmonton! Our expert team will meet with you to ensure we find the best choice of door for both the style of your home and your budget. Our door install process usually takes 6 to 8 weeks at the time of order, and we have a variety of doors to choose from, including satin, fibre and steel with and without glass. We offer both paintable or prefinished with paint or stained wood grain finish.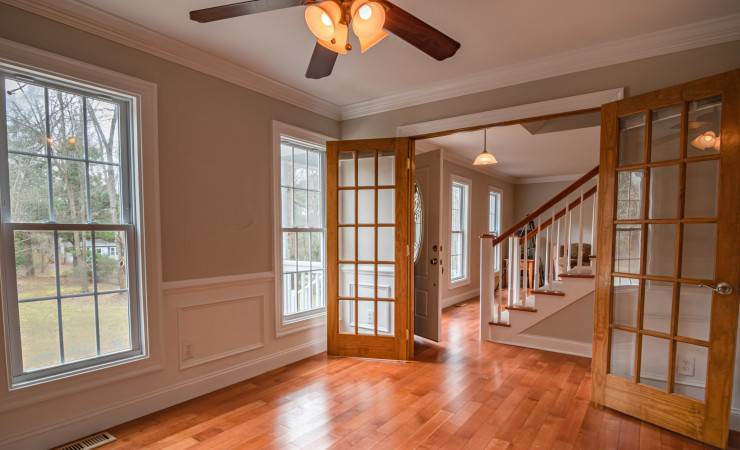 What Are The Different Types Of Doors?
Steel Doors
Steel doors are a super durable choice; they require the least maintenance compared to other doors and can stand up against our tough Alberta weather. Steel doors are both affordable and energy-efficient. Plus, they can increase your curb appeal by giving your home an elegant touch.
Fibreglass Doors
Fibreglass doors give you the classical appearance of real wood without the fear of warpage, cracking or rot. They are a great insulator and can add to your home's comfort by assisting in maintaining the temperature while helping to lower your energy bill. This is another durable door that's built to withstand our tough Alberta weather.
Aluminum Doors
Aluminum doors are built to last for years to come and will not rust. They have remarkable structural strength with the ability to withstand extreme weather and dramatic temperature changes. Maintenance is very minimal for this type of door, and you will save both time and money since they don't require annual paint and polish. Aluminum doors are sure to give your home a modern touch.
Contact Save On Roofing Today
Our team can help you find and install the perfect window or door for your home!